Unique Professional Offer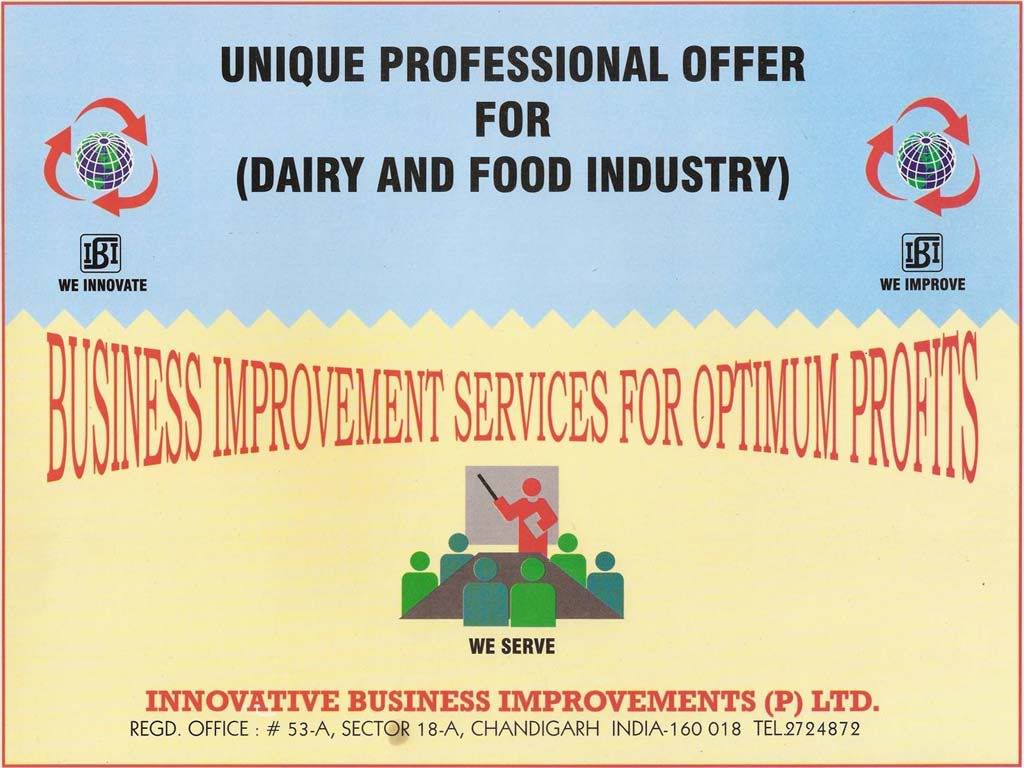 SITUATION PREVAILING TODAY
Unsafe Adulterated Dairy Products
More Dairy Plants Becoming Sick
Ethical Dairies Earning More Profit
PREVAILING SITUATION WHY?
Short Range Business Plans
Policy: Anything White Can Be Sold
Dependence on Raw Milk of Poor Quality
NEED OF THE HOUR
FOLLOW Professional Advice
IMPROVE Management Style
MANAGE By Documentation
INNOVATE For Improvements
REMAIN Ethical Earn More Strategy
VISION AT A GLANCE
PRODUCE Pure and Safe Dairy Products
MEET International Quality Standards
EXCEED Customer Expectations
PROCURE Milk Preferably From Milk Producers
ELIMINATE Middlemen from Business
BENCHMARK Multinational Companies
STRATEGIC SUGGESTIONS
INTRODUCE "New Age Management"
FOCUS on "Human Resource Development"
TARGET "International Quality"
INNOVATE "Resource Optimization"
FOLLOW "Management for Results"
FRIENDLY PROFESSIONAL OFFER
Let Us Shake Hands & Work Together
Result Oriented Services Assured
Your Gain Shall Remain Our Aim
Our Strategy Means Your Success
OUR AIM & OBJECTIVES
PROVIDE Innovative Support
INCREASE Raw Milk Procurement
IMPROVE Quality of Milk & Products
REDUCE Cost of Material Inputs
BOOST Productivity & Profitability
KEY FUNCTIONS
Improve quantity, quality of milk and reduce its landed cost.
Streamline systems and bring in concept of cost consciousness.
Optimize resource utilization and recovery of material inputs.
Improve quality of products and services with quality systems.
Improve maintenance system to reduce downtime and related costs.
Improve energy management for reducing consumption and cost.
Optimize results by improving team spirit and work culture.
Improve sales revenue through customer oriented innovations.
Improve status of accountability, responsibility and authority.
Introduce innovative and effective monitoring/evaluation system.
Provide live demonstration in key performance functions.
BENEFACTOR MEMBER OBLIGATIONS
Provide appropriate conveyance for all journeys connected with assignments (up to 100 KM)
Provide and bear cost of Air/Rail (A.C) /Taxi (SUV) travel for journeys involving long distance travel.
Provide and bear cost of appropriate boarding and lodging facilities at or near the place of work.
Meet all expenses incurred by "IBI" related directly with assignments.
Ensure availability of concerned people at work site as per specified schedule.
Keep "IBI" experts absolved of all legal obligations beyond their control and scope.
RESULT ORIENTED CONSULTING/ADVISORY SERVICES:
 (I)TECCHNO COMMERCIAL AUDIT OF MILK PURCHASE & OVERALL BUSINESS TRANSACTIONS
Digital hydro analysis of milk bills for evaluating hidden loss due to dilution and manipulation
Providing consulting/advisory services for controlling hidden losses in milk purchase transactions and procuring absolutely pure milk without any manipulation, adulteration or dilution. ( through email/telephone/website communications)

Providing effective guidance and training to key professionals for minimising working expenses, improving revenue and optimising profits. ( Through distance learning program using  email/telephone/website communications)
RETAINERSHIP FEE: Rs.50, 000 / Month + service tax as applicable for dairy plants having installed capacity 1 Lac to 5 Lac litres /day
TENURE OF CONTRACT:  (From……………….……..to…………………………)
Contract renewable on expiry of contract period as per mutual agreement.
(II) NEED BASED ACTUAL TIME SHARING CONSULTING/ADVISORY SERVICES (EXTRA):
PROVIDING LIVE DEMONSTRATION OF CONCEPT, SYSTEM AND TECHNIQUES RELATING TO KEY PERFORMANCE PARAMETERS: (Under the prevalent field conditions)
(Through periodic visits of professional experts) CONSULTING CHARGES:  Rs. 20000/day for Canadian/ American experts and Rs. 10000/day for Indian experts  +service tax as applicable for all outstation consulting/advisory services as per terms specified under benefactor member obligations) 
TENURE OF CONTRACT Minimum five years:  (From……………….……..to………………………….)
Contract renewable on expiry of contract period as per mutual agreement.
We hereby accept all terms and conditions of the contract agreement specified above.
Managing Director
Innovative Business Improvements Private Limited &
Director
Improvement Innovations Unlimited Incorporated Canada.
(Authorised signatory)
Benefactor Member Organization
C.E.O/M.D………………………………………….   
CONTENTS AND DETAILED IMPLEMENTATION PLAN OF OUR PROFESSIONAL OFFER:
All contents of our offer and recommendations will emerge from the following assumptions:
VISON: Glass of pure milk meeting with international quality requirements for everyone, every day, anywhere at globally competitive but reasonable price.
MISSION:  Establish chain of state of the art dairy plants in India procuring pure raw milk directly from milk producers, produce pasteurized milk and other value added dairy products strictly conforming to international specifications in terms of purity of contents, microbiological safety, and shelf life delivering the same to consumers on their doorsteps through consumer friendly marketing network.
 STRATEGY: Eliminate all middlemen form conventional value chain and replace them with service providers financially and otherwise accountable to the company for ensuring cost effective business operations.
POLICY: Company will follow transparent ethical policies for dealing with milk producers, consumers, employees, service providers and general public
SCOPE AND OBJECTIVES (MILK PORCURMENT AND TECHNICAL INPUT PROGRAMS)
SCOPE: The procedures of the department will cover procurement activity for purchase of raw milk at competitive rates as per business needs of the organisation from target group of ethical  milk producers , ensuring  good quality of milk ( without adulteration, dilution or manipulation) and provide technical inputs to them in a cost effective manner.   
OBJECTIVES:                                                          
1 Create sound farmer friendly infrastructure to procure good quality milk directly from milk producers (eliminating all middlemen) as per "APNI DAIRY" system.
2 Simultaneously Introduce supplementary   milk  procurement system (with sound analytical testing and scientific monitoring) for procuring milk of acceptable quality standards through selected commercial dairy farms/bulk suppliers for supplementing milk procured directly from milk producers through "APNI DAIRY" system.
3 Provide technical inputs like animal health care, balanced cattle feed, mineral mixture, A.I. services etc. to target group of dairy farmers through cost effective system.  
 We recommend following strategy for providing technical input services in three phases:
Phase- 1 Prior to starting milk procurement
Recruit farmer friendly competent and experienced veterinary doctors preferably with rural background and willing to live in focal point villages or small towns in the milk shed area of the company. These doctors may be given intensive induction training regarding milk procurement system of the company and complete functional details, systems and procedures for providing technical input services. These doctors will provide free consultancy services to target group of dairy farmers for all matters relating to breeding, feeding, heeding and weeding following professional management practices. Their prime objective will be to enable milk producers to produce more milk at less cost. They will also examine sick animals for the ailments that can be treated with prescribed medicines that farmers may purchase from the market at their own cost and administer the same either by themselves or with voluntary help of Veterinary doctors. While visiting dairy farms of milk producers they will also educate them regarding good manufacturing practices highlighting the importance of producing microbiologically safe and clean milk without any adulteration, dilution or intermixing. These doctors will ultimately become integral part of milk procurement network of the company and assume functional responsibilities as regional officers for specific milk routes.
Phase: 2 while starting milk Procurement
Continue to supply services mentioned above to milk producers who become part of your milk procurement network ,organisation may engage reputed manufacturers /distributors as service providers for supply of balanced cattle feed, mineral mixture, veterinary medicines, fodder seeds and if possible artificial insemination services . Organisation may negotiate bulk supply rates as the cost of these items on destination delivery basis and provide the same to milk producers at retail or subsidized rates as per policy frame work of the organisation. Quantitative demand for these technical inputs can be pooled by the veterinary doctors of the company and supply schedule regulated accordingly.
Organisation may deduct due payments from milk bills of milk producer members for payment to service providers as per agreed terms and conditions negotiated and settled with them.
Phase 3: After attaining satisfactory growth in demand for technical inputs and true assessment of growth and impact of these services, company may subsequently establish its own cattle feed plants, Fodder seed production farms, frozen semen bank for providing these services more effectively but in a cost effective manner treating these activities as ancillary business ventures.                                                                                                                                    
*Providing technical inputs like cost free medicines etc. often proves counterproductive, breeds corruption and ultimately becomes undesirable liability for the organisation.
We can provide our specific comments and recommendations for suggesting improvements regarding implementation process of providing technical inputs being followed by Client Company after detailed techno-economic audit and impact evaluation of their prevalent system.
Client Company may keep initial bench marks slightly higher than those followed by successful dairy plants in India providing such services in their milk shed area and the same may be gradually upgraded to the levels at par or higher than global competitors.
2.Milk Procurement:
Based on detailed techno-commercial audit of performance records of existing dairy plants interested in availing our consulting/advisory services we would offer specific comments, recommendations and suggestions for improvements. We will be in a position to recommend cost efficient procurement infrastructure, hardware and technologies to enable you to achieve complete transparency in measurement, payment to farmers eliminating hidden losses in milk purchase transactions and procure absolutely pure raw milk suitable for producing pasteurized milk/dairy products conforming to international quality norms.
Milk procurement activity has following three critical prime performance parameters:
1 Quantity of milk procured (Total milk solids)
2 Quality of Milk (Microbiologically safe milk without adulteration, dilution or manipulation)
3. Total milk handling cost (From milk producers to dairy plant in Rs. / Kg. milk solids)
We have carried out deep probe and analytical research on different milk procurement systems being followed by AMUL, state milk co-operatives, multinational companies, private dairy plants and milk contractors in unorganised sector in India. Summary of our findings clearly indicate that original "Anand Pattern" system conceived and implemented by Dr. V. Kurien in Anand milk union was relatively more result oriented and cost effective as compared to other systems followed by others.
Modified shortcut and distorted version of this system now being implemented by many state milk cooperatives (those suffering financial losses) and private dairy institutions in different states are not only a risky propositions but least cost effective system.
Unfortunately none of these systems in the situation now prevailing in India is suitable for procuring raw milk on commercial scale strictly meeting with internationally specified standards for purity of contents (without dilution, adulteration and manipulation)  and microbiological safety. Producing pasteurized milk or value added products meeting international quality requirements for purity, microbiological safety and shelf life still   remains a distant dream for majority of dairy business entrepreneurs in India.
More than 80% cost of dairy business is value of raw milk purchased by dairy institutions. Success and failure in dairy business thus largely depends on this prime activity. Keeping this in mind we have designed a unique system for procuring raw milk directly from milk producers. This system titled "APNI DAIRY" " is based on unconventional concept of informal co-operatives (N.G.O.'s), farmer friendly policies, fool proof organized system for purchasing pure raw milk without any dilution or inter-mixing of buffalo milk with cow milk. It not only eliminates almost all middlemen from the value chain but works in a cost effective and self-governing manner thus helping the beneficiary institution to drastically reduce its milk procurement/processing costs. "APNI DAIRY" system incorporates positive features of all successful models and eliminates inherent draw backs in those systems that could become hurdles in successfully achieving three prime objectives mentioned above.
Service providers deployed for milk collection, chilling and transportation of milk to dairy plant get reasonable remuneration for their service contribution while remaining fully accountable for milk contents in their custody while milk remains in transit,  like cashiers handling cash for banking operations.
Unique advantage of "APNI DAIRY" system of milk procurement is that dairy plant will get assured regular supply of pure and safe raw milk ideally suitable for producing dairy products conforming to international quality requirements. Comprehensive detailed document containing micro details covering all aspects from concept to commissioning including  three level HR staffing pattern, duties and responsibilities for each assignment, standard operating procedures, system approach for developing milk procurement network in milk shed area, effective pricing system , benchmarks for key performance parameters, monitoring and evaluation formats etc. is I.P. our company and our business associate M/S  Improvement Innovations unlimited Inc. Canada .This company for providing  techno-commercial  support to "APNI DAIRY"  system of milk procurement has designed 'Dairy business management software " Doodh Ka doodh aur paani ka paani". This software serves as effective monitoring tool in the hands of management executives to control hidden losses in milk purchase transactions and is the first of its kind to tackle age old major unresolved problem of Indian dairy industry relating to intermixing of buffalo milk with cow milk and added water ".                                                            
We can only share micro details of this system only with the dairy professionals of those Dairy Plants that find our comprehensive offer acceptable to them as per specified standard commercial and allied terms/ conditions.
Comprehensive document will not only meet all techno-commercial business requirements but so designed to focus on the following prime management objectives:
1 Achieve specified goals and objectives with in shortest possible time span while consuming minimum financial and allied resources.
1 Deploy minimum manpower strictly as per functional needs by mainlining clear line of responsibility and authority.
3 Link monthly remuneration, perks and fringe benefits with actual achievement of budgetary targets relating to prime performance parameters.
4 Professionally designed performance evaluation system may be introduced and implemented as integral part the documented milk procurement system.
6 Concept of "Management for Results" may be introduced and implemented in all functional departments for optimising performance results.
7 Marwari Concept of "PARTHA" may be introduced for maintaining transparency in in financial accounting so as to eliminate hidden losses. 
HUMAN RESOURCE DEVELOPMENT AND TRAINING
In modern era of cut throat global competition, human resource development and training plays key role in optimising utilisation of available resources and achieving time bound targeted goals and objectives. NDDB also created spear head teams (group of competent trained professionals) for replicating original "ANAND PATTERN" in different states 
We recommend comprehensive training program covering all aspects from concept to implementation for core group (comprising of 7 to 10 professionals working with dairy plant) who will be responsible for implementing unique "APNI DAIRY" system of milk procurement and technical inputs program in their specific milk shed area.
CUSTOM DESIGNED TRAINING PROGRAM FOR CORE GROUP OR SPEAR HEAD TEAM
Program will be conducted through  required number of module sessions of 4 hour duration each spread over a period of three/six months.  Each session will have specific learning objectives, professionally designed class room training cum coaching methodology; group discussion and question answer session to clarify basic concepts and implementation procedures.
While attending this training program based on I.S.O. concept; participants under our professional guidance will write chapter by chapter their own "MANUAL FOIR MILK PROCUREMENT AND TECHNICAL INPUTS" incorporating micro details of "APNI DAIRY" system in letter and spirit. This documented manual   can subsequently be used by respective dairy plants as a working guide containing specific inside the box work instructions for effective implementation and evaluation of correlated prime performance parameters. Participants would also be given specific practical assignment tasks to be performed by them in actual field conditions prevailing in specified milk shed area. Group leader among these participants will remain constantly in touch with us through telephone and internet for expeditiously sorting out difficulties or problems if any faced by them while executing these assigned tasks. Our expert guidance and technical support would always be made available to them for successful implementation of this professionally designed program.
Depending upon I.Q., learning ability and work attitude of professional participants selected by your organisation, at the end of this intensive coaching and field training program your dairy plant  will have competent and confident spear head teams to successfully achieve specified  goals and objectives highlighted in our documented offer.
Note: We can also incorporate any amendments or modifications in this training program as per your specific requirements or suggestions.
Payment Terms:
As per standard policy of our company for providing result oriented consulting /advisory services we specifically like to deal only with ethical business entrepreneurs and accept such assignments only against quarterly advance payments and specified standard terms and conditions .
Please feel free to seek any additional information or clarification related with this offer.
Assuring to you our result oriented professional services
(Jaswant Singh Bhandair)
Managing Director Innovative Business Improvements Private Limited India
&
Director Improvement Innovations Unlimited Inc. Canada